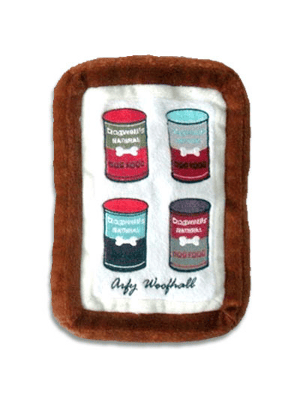 Arfy Woofhall Lithograph Toy (Add on options)
$

9.99 - On Sale
LIMITED SUPPLY and difficult to find! For the pet with the artsy type parent(s). Toy has a squeaker inside, and is parodied after Andy Warhol's creation featuring Campbell's soup cans. The soup cans are replaced, of course, with cans of dog food! Not your average toy, for your not so average pooch!
Toy measures 7" x 5". Machine washable on delicate cycle.
Makes a great pillow for sleep-time. You may also like the Vincent Van Dog toy.
Availability
Both Woofhall & Van Dog Toys! - 100% in stock

Arfy Woofhall Lithograph Toy - 100% in stock

Vincent Van Dog Toy - 100% in stock