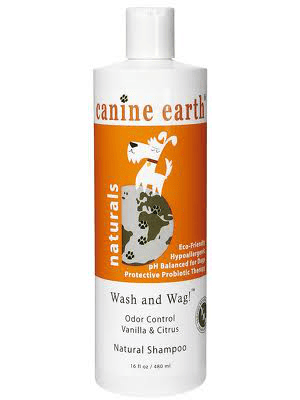 Canine Earth Odor Control Vanilla Citrus Natural Dog Shampoo
$

11.99 - On Sale
Wash and Wag! Vanilla Citrus Odor Control Shampoo provides a fragrant and foamy bath time experience and contains certified organic ingredients with aromatherapy and probiotic benefits. Probiotics provide a barrier against allergens, free radicals, and pollutants in the air, making this shampoo an excellent skin therapy.
Orange peel oil and lemon extract naturally deodorize. This product is eco-friendly, hypoallergenic, pH balanced for dogs, and Verified Natural...your guarantee of truly natural products made in the USA.
Canine Earth Naturals are verified natural which is your guarantee of truly natural products. The same way human skin can be negatively affected by soaps with high pH and chemical ingredients, the same problems can affect your pet. It contains aroma-therapeutic with organic ingredients and PROBIOTICS to provide a barrier against harmful pollutants, free radicals and allergens. Gentle and safe, formulated and pH balanced for canine skin and coat.
Sulfate, Paraben, and Soap free!
Biodegradable & Biocompatible
Cruelty Free
16oz