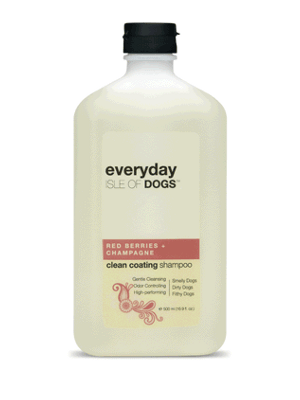 Isle of Dogs Clean Coating Shampoo *SALE*
$

11.00 - On Sale
Trusted by dog owners tough on dirt and kind to their loved pets.
Made in the U.S.A.
Isle of Dogs Red Berries Champagne Clean Coating Dog Shampoo for Dirty, Filthy and Smelly Dogs - 16.9oz
**From the makers of Coature, the top-selling luxury grooming system for champions. **
Features:
• Contains herbal and natural extracts
• Gentle and safe on both human and canine skin
• Long-lasting freshness
•Fresh crisp fragrances with natural odor neutralizers and deodorizers
• Developed by experts to offer salon results at home
Green Tea Extract, Aloe Leaf Juice and Witch Hazel Extract combine to deodorize and freshen the coat. A gentle, yet thorough, cleansing shampoo that removes dirt, grime and odor, and extends time between baths.
Follow with Everyday Isle of Dogs Lush Coating Conditioner.